See on Scoop.it – Addictions and Mental Health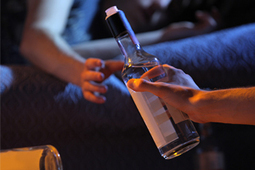 The age at which many children in the U.S. take their first sip of alcohol is surprisingly young, finds a new study in the Journal of Adolescent Health.
This study underscores the need for parents and teachers to begin substance abuse education at much earlier ages than once thought. Researchers from the University of Pittsburgh queried 452 children in one Pennsylvania county each year from ages 8 and a half through 18 about how old they were when they first sipped or tasted alcohol, had a drink, had three or more drinks in a row, or were drunk. This article on the Medical Press website summarizes the results:
"By age 8, 37 percent had sipped alcohol. That number jumped to 66 percent by age 12. By age 18.5, nearly all (96 percent) had sipped or tasted alcohol. Also, 16 percent of 16-year-olds reported binge drinking (three or more drinks)."
The lead investigator on the study found the most alarming result to be that over half of the children had tried sipping or tasting alcohol by age 11. He noted that earlier research indicated that "childhood sipping predicts early initiation of drinking" and said the study confirms that " we need to be talking with our children and students at a much earlier age than most would think." He added that since most underage drinkers get their alcohol from family members or those of legal drinking age, there is a great need to get adults to understand the risks of adolescent drinking.
Note: Another reason this is alarming is that there is previous research to indicate that adolescents appear to be particularly sensitive to the positive effects of drinking, for example, feeling more at ease in social situations. There is speculation that young people may drink more than adults because of these positive social experiences and may be wiring their brains to associate pleasurable emotional experiences with drinking, This may be one reason that early onset of drinking predisposes people to develop substance abuse disorders. See:
http://pubs.niaaa.nih.gov/publications/AA67/AA67.htm
See on medicalxpress.com